The Primary Schools in Johannesburg are beautiful and very standard. Being cited in Johannesburg, a tourist attraction, it also boasts of having some of the best primary schools in South Africa.
In this article, we have compiled a list of some of these schools for your consideration.
This co-educational school uses the "British System" of learning and pride itself on a tradition of the high standard of education, sound discipline, and continually strive for excellence. 
With a current learner base of more than 900, they also offer a well-rounded program of education, cultural, and sports activities.
Address:
1 School Rd, Bedfordview, Germiston, 2007, South Africa
Established in 1952  with 128pilspils, this public co-educational school is located in Parkhurst suburban.
It now boasts of enrolling a large number of pupils in the range of Grade 1 – 7 and is amongst one of the most popular Primary Schools in Johannesburg.
Address:
102 15th St, Parkhurst, Randburg, 2193, South Africa
Located in Olympia Avenue, this co-educational primary school is consistently keeping up its tradition of providing high standard learning curricula. it was formerly known by the name "Stepping Stones Preschool"
Address: 81 Olympia Ave, Parkmore, Sandton, 2196, South Africa
Phone: +27 11 784 0454
This co-educational and multi-cultural school established in 1955 with 255  pupils now has over 855 pupils ranging from. Grade R to 7 on their register.
Address: Gavin Ave, Blairgowrie, Johannesburg, 2194, South Africa
Phone: +27 11 782 5406
With a location of proximity to Oxford Road, this coeducational public school takes care of the education of pupils in Grade 1 to 7.
Address: 13 Aldswold Rd, Randburg, 2132, South Africa
Phone: +27 11 646 5510
Established in 1954, this public primary school uses the British medium of learning. it educates pupils in Grade 0 to 7 and offers a variety of academic, cultural and sports activities to their students
Address: 13 Mount St, Bryanston, Sandton, 2191, South Africa
Phone: +27 11 706 1263
This Public co-educational primary school was established in 1906 with 30 pupils. They're currently among the best Primary school's in Johannesburg educating pupils from Grade 0 – 7.
Address:
13 Jellicoe Ave, Rosebank, Johannesburg, 2196, South Africa
This Primary School employs the use of English and an Indigenous Language known as "Afrikaans" as a model teaching to their pupils.
With a Grade level of R to 7 pupil membership, they also teach Zulu language to pupils of Grade 1 and 2.
Address: 63 2nd Ave, Melville, Johannesburg, 2109, South Africa
Phone: +27 11 726 4323
Established in 1917 with only 19 pupils and one teacher. They're currently among the best primary schools in Johannesburg taking care of the education of pupils in Grade 4 to 7.
The school has over 600 pupils in their school register.
Address:
Greenside East, Randburg, 2193, South Africa
Read Also: Best International Schools in Johannesburg
https:///best-international-schools-in-johannesburg/
Catering for the education of students in the Grade level of 0 to 7, this school offers music classes as well as extra-curricular activities like netball and rock climbing. In 2012 it was awarded the happiest students school award.
Address: 105 Witkoppen Rd, Paulshof, Sandton, 2062, South Africa
Phone: +27 11 367 6631
One of the oldest private primary schools in Johannesburg. They aim to help pupils attain their best academically and in every other area and aspect.
Address: 17 Benray Rd, Reuven, Johannesburg, 2091, South Africa
Phone: +27 11 683 5200
This is one school that has a reputation for producing the best students as their school academic performance record for the past thirty years show.
Aside from having a Pre-prep school and a Preparatory School, they also have a college so you don't have to worry about the educational well being of your child.
The students also engage in extra curricula activities as a means of striking a balance between academics and exercise.
Address: 20 Summit Rd, Morningside, Sandton, 2057, South Africa
This is a bi-lingual private primary learning center. They teach English and Afrikaans and offer extra mural activities like art, music, and drama. They've won the award for the best overall achievement school for 5 consecutive years.
Like Melpark Primary school, this school also offers teaching programs in English and Afrikaans. Located in Westdene, the school focus on giving its pupils the best education opportunities with special attention to music, drama, and art
Enrollment into this school is from the ages of 1 – 13
Address: 49 Winchester St, Westdene, 2092, South Africa
Phone: +27 11 726 6036
This School is an alternative learning Primary School in Johannesburg. The pupils are encouraged to showcase their creative expressions which makes this school unique. They also focus on the academic performance of the child as well.
Enrollment into this school is from 5 to 13 years
Address: 10 Sabie Rd, Emmarentia, Randburg, 2195, South Africa
A Pre-primary and Primary school that takes care of the education of pupils in the Grade level of R to 7.
Aside from offering excellent education, they also offer extra-curricula activities and meals as well as holiday activities.
Address: 46 Kingfisher Dr, Fourways, Sandton, 2191, South Africa
One of the oldest and finest schools in South Africa, this school was established in 1919 and it's located on the historic Westcliff Ridge. As an English oriented school, they aim to instill well balanced, holistic Christian values in their pupils.
Address: 26 Woolston Rd, Westcliff, Randburg, 2193, South Africa
Phone: +27 11 481 5800
Number of students: 511
Roedan School
This school was established in 1962 by Theresa Lawrence and Katherine Margaret as a girls-only school. They emphasize instilling the value of honor, courtesy, and truth in every student. Enrollment is in 3 levels
Grades 0 – 3, 4 – 7 and 8 – 12.
Address:
Roedean Way, Brighton BN2 5RQ, United Kingdom
This Institution was established in 2013 by Stacey Brewer and Ryan Harrison to provide children with a quality education that'll grant them access to pristine high schools. As of 2016, there were 7 running institutions
This school was established in 1946 by the Missionary Sister of Assumption. They provide their pupils with an affordable and respectable Christian education. They currently have about 600 pupils in admission.
Address: Mullins Rd, Malvern East, Germiston, 1401, South Africa
Phone: +27 11 616 5053
This privately owned Co-educational primary school admits students from all classes and diverse religious views. Enrolling them in Grades R – 12, they also offer extramural activities in art music and culture. 
Address: 103 Elizabeth Eybers St, Randhart, Alberton, 1449, South Africa
Phone: +27 11 864 8648
Located on the Old Kensington golf course, this international school uses the Cambridge curriculum. They aim to produce well-rounded individuals who are both educated in and outside the classroom which is why they offer students the opportunity to take part in extramural activities like Rugby and Swimming
If you're a practicing Muslim and you're looking for the right school to enroll your child in, this school is your choice. They were established in 1990 and they aim to instill in your child a good education and an opportunity to express their religion.
Address: Corner Bree and Burgersdorp Streets, Fordsburg, Johannesburg, 2092, South Africa
Phone: +27 11 838 2559
This affordable school is located close to Broadacres, Lonehill. Enrollment is from. the ages of 9months to 12 years…
This Primary has a beautiful learning environment that will enhance the learning ability of your child. It has blasted a wide field with playgrounds, swimming pool, science lab, and a computer center.
They accept admission into she Grade levels of RR to 7.
Address:
Vardon Rd, Greenside, Johannesburg, 2193, South Africa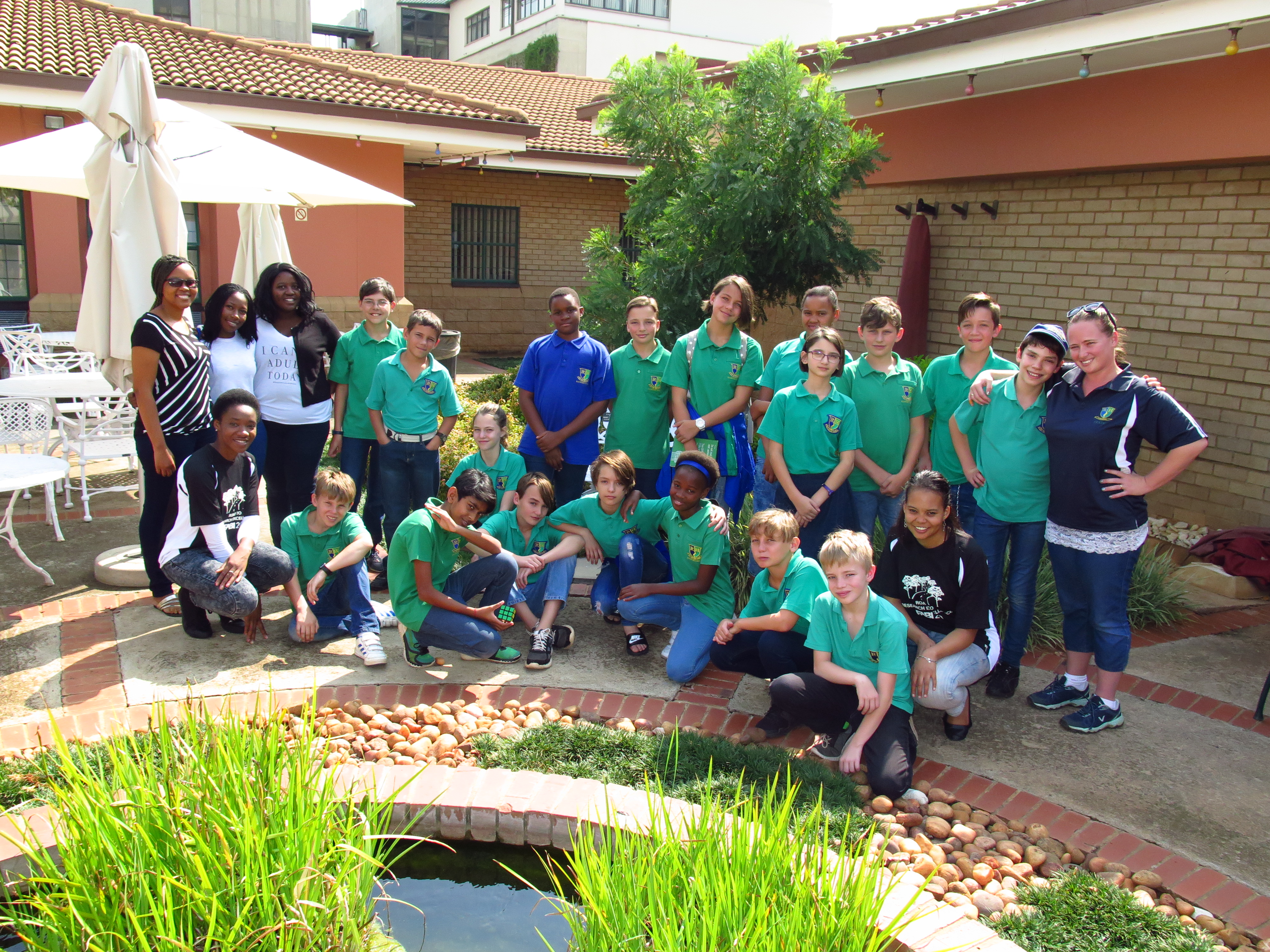 This Primary school located in Fairland Johannesburg. They admit "gifted" pupils and introduce them to a friendly, fun, and cozy environment.
Address:
225 Cornelis St, Fairland, Johannesburg, 2170, South Africa

Established in 1937 this is one of the best Primary schools in Johannesburg. Though with a Catholic background and part college, it also has an excellent primary school section.
According to their Mission Statement, the school aims to create a Christian atmosphere where the child can live and share out of a vision of quality education which develops independent thinking and sound discipline.
The school currently has 392 pupils in its primary school section. Aside from sound education, they offer extra-curricula activities like Sports,  public speaking, drama, choir, debate, and community service groups.
If you're looking for a school where your child will be exposed to moral values as well as sound education, this school is your best choice.
Address: High School, 10 St Marys Rd, Maryvale, Johannesburg, 2192, South Africa
Phone: +27 11 640 3061
In conclusion, finding and enrolling your child in a good school is very important and an investment that'll be worth your effort.
I have taken time to give you an extensive choice of schools to pick from because the value of a child depends largely on the level of education that child is exposed to and what better place than a school that offers sound education in a conducive environment with an emphasis on inculcating good moral values into the child.
In future we want our tomorrow's leaders to be Visionaries who'll impact their world like the great Nelson Mandela. Decide on enrolling your child in a good school now and you won't regret it